Hollywood stories for Monday, 27 August 2007
By Steve Lee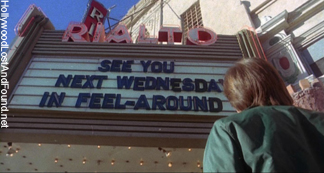 Hi everyone... here are today's Hollywood story picks from the internet...
The Rialto Theater in Pasadena, seen in films such as "The Player" and "Kentucky Fried Movie" (pictured above),
may have to close soon.
Young Frankenstein, the Musical,
is opening in Seattle.
Here's
Variety's review.
Jim Carrey has signed to a deal that
has many in Hollywood scratching their head.
There HAS to be more to this story that hasn't surfaced yet.
I obviously talk a lot about the work of sound effects editors... but
here's a piece on music editors
, including Chris Ledesma, who has been taking care of the music library of "The Simpsons." The show has, from day one, numbered each recorded take of music consecutively - and recently slated "take 23,000."
Toho, the Japanese studio that brought us the likes of Akira Kurosawa and Godzilla, has
a formidable catalog of motion pictures
that continues to influence our film makers. They also have their own
theater chain
.
If you're hiking in the hills of Hollywood, keep in mind that there's
an extreme fire danger right now
.
Anyone using the infamous line from "Dirty Dancing" "Nobody puts Baby in the corner" on any merchandise without permission had
better watch out
.
I stay for a movie's credits as often as I'm able, but most people don't. Now more and more film makers are
creating ways to reward those who do stay
.
This last Thursday, sixty-four years ago, actress Olivia de Havilland filed a lawsuit that resulted in Labor Code Section 2855, or, as it's more commonly known, the "seven-year rule" that
continues to protect talent and their contracts
.
Have a great week!