Hollywood stories for Monday, 6 August 2007
By Steve Lee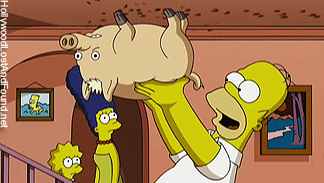 Happy Monday to all. Here are a few of the stories floating about in Hollywood's cyberspace...
Hans Zimmer reveals in an online chat
that he turned down "The Simpsons Movie" a few times before taking the job... and that the "Spider Pig" chorus was originally just recorded as a crew joke.
The Academy of Motion Picture Arts and Sciences announced
they're working with the Library of Congress to preserve digital content
- including movies - for future generations.
If you've been waiting to build your time machine because you can't find a DeLorean,
you're in luck.
Jack Black has signed to appear in
"The Lost Adventures of Stone Perlmutter Jr.,"
a faux documentary about an Indiana Jones-like adventurer.
Film making is on the rise in Connecticut
due largely to a 30 percent tax credit the state created to encourage shooting here. So... I say again...
why doesn't California do that...?
"Home Movie Day" is August 11th.
To celebrate, the Academy of Motion Picture Arts and Sciences will present some
home movies from celebrities
, including Alfred Hitchcock, Esther Williams and Steve McQueen.
Have a good week...