Ollie Johnston, 1912-2008
By Steve Lee
Ollie Johnston, the last of Walt Disney's legendary group of animators called the "Nine Old Men," died Monday (14 April 2008) in Sequim, Washington. He was 95.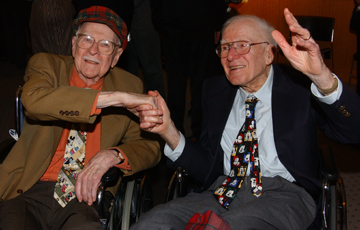 Ollie (above, left) along with best friend and next-door-neighbor Frank Thomas (above, right), who died in 2004, were arguably the best known of the nine. Together they worked on such Disney animated features as "Snow White," "Fantasia," "Bambi," "Pinocchio." "Alice in Wonderland," "Peter Pan," "Sleeping Beauty," and many others... and they collaborated on many books, including "The Illusion of Life," and "The Disney Villains."
Oscar-winning director Brad Bird, a huge fan of their work, gave Frank and Ollie animated cameo appearances in his films "The Iron Giant" and "The Incredibles."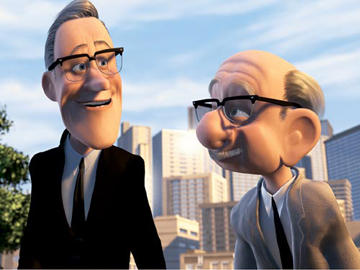 CLICK HERE to read the AP obituary.
CLICK HERE to view his credits on IMDB.