Hollywood stories for Monday, 13 August 2007
By Steve Lee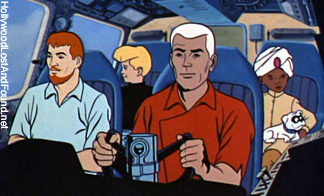 Happy Monday, all... here's today's collection of Hollywood headlines from the internet...
"Jonny Quest," the classic Hanna-Barbera adventure series,
may become a Warner Bros. feature film
. Dan Mazeau has been hired to write a script, to be produced by Adrian Askarieh and Daniel Alter.
Some of you may have noticed that there are stars missing from the Hollywood Walk of fame. They'll be gone until 2009, actually.
Here's why
.
A fire at Rome's Cinecitta Film Studios
nearly destroyed movie artifacts from "Ben-Hur" and "Cleopatra."
Disney-MGM Studios is dropping all ties to Metro-Goldwyn-Mayer, and will soon become, simply,
Disney's Hollywood Studios.
New York's Moondance diner, as seen in "Spider-Man," "Friends" and "Sex and the City," is moving to Wyoming. And when I say "moving," I mean
the entire building
.
Animator Gary Goldman ("Pete's Dragon," "The Secret of NIMH," "Anastasia," "Titan A.E.")
is joining the teaching staff of the Savannah College of Art and Design
.
...And the National Archives is teaming with CreateSpace (an Amazon.com subsidiary)
to digitize the motion pictures in its collection
- including documentaries, instructional films, combat footage, and much more. Up first for the program is the collection of
Universal Newsreels
.
Have a great week!