Hollywood stories for Monday, 10 December 2007
By Steve Lee
Happy Monday, everyone... Here are a few Hollywood headlines from around the internet...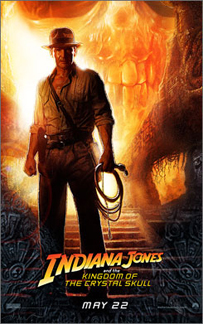 As you can see, the official one-sheet for "Indiana Jones and the Kingdom of the Crystal Skull" has arrived... and
USA Today has published a few more details about the film
.
The Writer's Strike begins its sixth week, with talks stalled for the moment.
Hollywood workers are pleading for them to begin again
.
Costume designer Marit Allen has died
.
Warner Bros. is releasing
a great collection of Oscar-winning animated shorts
.
Here's a question
I've weighed in on
previously - how historically acurate should movies really be?
A discussion was held recently on that very topic
.
Have a good week!