Delbert Mann, 1920 - 2007
By Steve Lee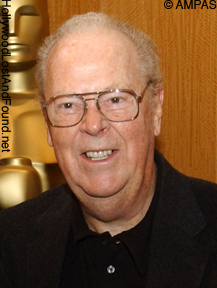 Delbert Mann, who directed the film classic "Marty" (1955), has died. He was 87.
Born January 30, 1920, in Lawrence, Kansas, he graduated from Vanderbilt University before becoming a pilot with the Eighth Air Force. He moved to New York in 1949 after a friend gave him the chance to direct television for NBC. He became one of the pioneers of what has been called "The Golden Age of Television."
Mann brought many of the cost and time-saving techniques from TV production to the film world, taking a mere 19 days - including pick-ups - to shoot "Marty." The film won Oscars in four categories - including Best Director.
His other feature credits include "The Bachelor Party" (1957), "Desire Under the Elms" (1957), "Middle of the Night" (1959), "The Dark at the Top of the Stairs" (1960), "The Outsider" (1961), "That Touch of Mink" (1962), "Fitzwilly" (1967), "Kidnapped" (1971), "Night Crossing" (1982) and "Bronte" (1983). His television productions include "Heidi" (1968), "David Copperfield" (1970), "Jane Eyre" (1971), "All Quiet on the Western Front" (1979) and "The Last Days of Patton" (1986).
He is survived by his three sons Fred, David and Steven. Our deepest condolences go out to them.
Read his obituary
HERE
, and visit his IMDB page
HERE
.