Hollywood stories for Monday, 22 October 2007
By Steve Lee
Hi, everyone... Here's this week's batch of Hollywood stories from around the internet...
Ian McKellen is eager to play Gandalf in "The Hobbit" - and
he has Peter Jackson's support
.
"Young Indiana Jones" is now on DVD.
Here are some notes about it (and the new movie)
from Skywalker Ranch. ...By the way, did you know they have Charlie Chaplin's cane there?...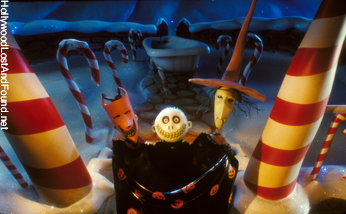 "Nightmare Before Christmas" in 3-D has opened, and
director Henry Selick was on hand at the El Capitan in Hollywood
to talk about it.
Here's an MSNBC interview with James Lipton
of "Inside the Actors Studio."
Luke Skywalker's lightsaber is already stowed aboard the space shuttle
, waiting for its launch on the 23rd.
J.K. Rowling has revealed that Harry Potter character
Dumbledore is gay
.
And finally.... there could be more than just trick-or-treaters on the street this Halloween.
The Writer's Guild has authorized a strike
, and their contract is up on October 31st.
Have a good week... and, everyone, send your best thoughts and wishes to all the firefighters working hard in California right now!