Hollywood stories for Monday, 15 October 2007
By Steve Lee
Hi, everyone... Here's this week's batch of Hollywood stories from around the internet...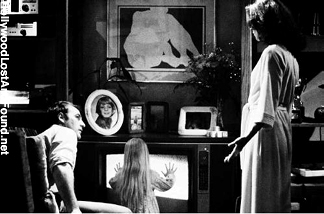 "Poltergeist" (1982) will be screening on October 25th at the Academy's Linwood Dunn Theater in Hollywood
- with several of the film makers (including Oscar nominated sound editors Richard Anderson and Stephen Flick) in attendance.
NBC Studios is leaving Burbank.
3-D movies are back!
A new play opening in Chicago, "Completely Hollywood (abridged)" is a parody of the film industry - and
this review reads like a movie producer's notes.
According to
Nikki Finke
, Warner Bros president of production Jeff Robinov has said that
"We are no longer doing movies with women in the lead."
Roger Moore
is shopping for a publisher
of his biography.
More news on the possible impending Writer's Strike... now
members have been told that they may not write for animated features if a strike should occur
- even though animation is usually not covered by the WGA.
The Stepson of Maria von Trapp of 'The Sound of Music' fame
has died.
Memorabilia from "Easy Rider" has sold at an auction
, including the American flag taken from the back of Peter Fonda's jacket.
...And
Wilhelm screams again on ABC World News
(I was actually interviewed for the piece, but it was too short to include me).
Have a great week!