Hollywood stories for Monday, 30 July 2007
By Steve Lee
Happy Monday, everyone. Here are a few Hollywood stories from various parts of the internet... many of which originated from this year's
Comic-Con in San Diego
.
Karen Allen has joined the cast of the next "Indiana Jones" movie
. The announcement video from the set of the film has been posted on
the official Indiana Jones website
.
Leonard Nimoy will once again play Mr. Spock
in the next "Star Trek" movie, and he appeared at Comic-Con with the actor cast as young Spock.
"The Simpsons Movie" is #1 this week, and there's a ton of Simpsons news. They have announced
what's in store for the TV show next season
, including their line-up of guest stars.
There's
a Simpsons theme park ride
coming to Universal Studios (but
it's replacing "Back to the Future,"
so you'd better say goodbye before Labor Day.)
By the way, "The Simpsons Movie"
was edited brilliantly by John Carnochan, with a great sound job by Randy Thom and his crew.
"Futurama," the hilarious animated science fiction series from the people who brought you "The Simpsons," announced
several Direct to DVD releases
featuring the original series cast.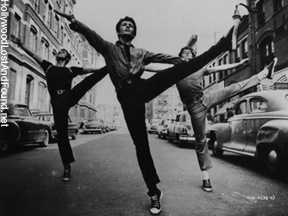 One of the greatest musicals of all time,
"West Side Story," is 50 years old
(the film version, as you may know, swept the Oscars for 1961).
A revised version of "Bladerunner,"
recut by Ridley Scott himself, opens soon for a brief theatrical run (then on to DVD in several editions). I highly recommend you make an effort to see it on the big screen!
Johnny Depp is teaming with Warner Bros. on
a movie version of the supernatural soap opera "Dark Shadows,"
with Depp playing lead vampire Barnabas Collins.
Legendary film critic Roger Ebert will be hosting a live chat on Thursday, August 2nd, to kick off a new feature on his
"Ebert & Roeper" website
that will feature 20 years of movie review videos available online.
...And finally, we wish a
happy 67th birthday to Bugs Bunny.
Have a good Monday, and a great week.