Monday Stories, 16 July 2007
By Steve Lee
Happy Monday! Here are a few things going on around Hollywood...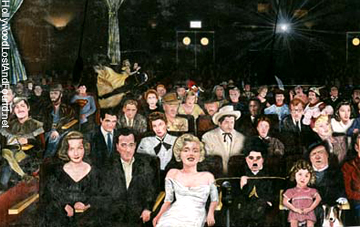 The famous mural at Hollywood Blvd. and Wilcox Ave.
is being restored by the original artist, Thomas Suriya.
Hollywood extends to Hawaii, as
the next Indiana Jones is filming there right now.
"Raiders of the Lost Ark," as you may know, opened with a sequence shot in Hawaii - which was actually filmed at the end of the film's production schedule.
Speaking of Indy,
there's a brand-new brief clip on IndianaJones.com
of the man in the hat himself.
This is a bit distressing:
there's a call by some to end residual payments for performers in film and television.
The
trailers to "The Golden Compass"
look cool. But as many know, I'm partial to talking Polar Bears.
Oh, there's something in the news about
a new Harry Potter book on sale Friday.
For those not familiar with the insanely successful series of books and films,
here are a few facts about it all.
By the way, an update to
last week's
Harry Potter blurb: according to
Bruce Hubbard's website
, he will NOT be getting the Nimbus 2000. Tough luck, Bruce.
Film and TV Soap star Eric Braeden gets a star on the
Hollywood Walk of Fame
this Friday (7/20) at 11:30am at 7021 Hollywood Boulevard.
The Queen Mary in Long Beach
is hosting a couple Hollywood exhibits right now... "Rockin' Hollywood" is a *free* exhibit of classic rock and movie legends in pictures by photographer Michael Childers. "Spy-Fi" is a display of Danny Biederman's collection of memorabilia from TV and film spies, including Maxwell Smart's shoe phone, Dr. Evil's ring, and Emma Peel's Leather Pants. Admission is included with purchase of a Queen Mary ticket (or $10 for just the exhibit). Both displays run until September.
...One last note... for more current events around Hollywood, including a bunch of free movies around town, check out our aptly named
Current Events page.
Have a good week!