Shooting in Downtown Los Angeles
By Steve Lee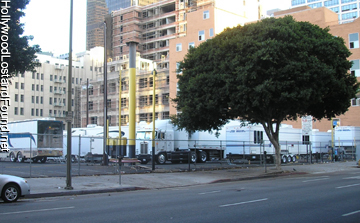 Downtown Los Angeles is a popular location for movie, TV and commercial production. The picture above is a common site in L.A. - trailers and other movie vehicles strewn about the parking lots and side streets of the city, with frequent street closures to make way for the parading camera trucks, dollys and the occasional helicopter zooming about.
Residents and merchants are concerned that Downtown has practically become a studio back lot, and they're not happy. They want tighter rules that could limit the area for production.
It's unfortunate that there's such conflict when talking about shooting within Los Angeles, since there is an active campaign to bring
"runaway production"
back to California. But one can certainly relate to the stories residents are sharing of being kept awake at night because of these crews working.
I'm surprised not to find more coverage on this story... but
here is an article in Daily Variety
, and
one from the L.A. Times
.
Its a delicate situation, and one that we'll be following...