Disneyland's Anniversary
By Steve Lee
On this day in 1955, in Anaheim, California -
Disneyland
opened.
If you don't know what Disneyland has to do with Hollywood history, just think about it a minute.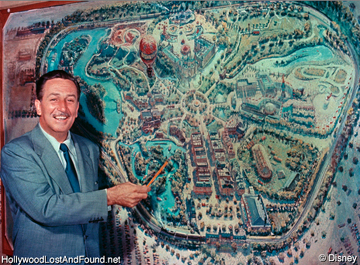 Besides being created by
Walt Disney
, who was one of the most influential and prolific producers of films and television ever... almost everyone involved in the park's design came from Hollywood. People like
Xavier Atencio
, who wrote and designed several key attractions; Special effects artist
Eustace Lycett
, who helped create "Great Moments with Mr Lincoln" and others; composer
Buddy Baker
, who wrote the music for several attractions; actor
Paul Frees
, whose voice is heard in lots of places in the park; and effects artist
Peter Ellenshaw
, who (as I've mentioned
before
) painted the first TV view of Disneyland. Just to name a few.
Not to mention that many
attractions
there are based on Disney's films - and some
fil
ms
are based on their attractions.
There are even more reasons... but since it's the subject of an upcoming
"Locations"
article for the site, I'll stop now. But in honor of the park's anniversary, here are some secret links to some 360º pictures taken in Disneyland. Enjoy!
Town Square, Main Street
Fantasyland
New Orleans Square
The Haunted Mansion