Video Arcade Games
By Steve Lee
I used to play video arcade games religiously until just after college. Then I pretty much went cold turkey as my career took shape. But, wow, before then, many many rolls of quarters were squandered.
I feel rather silly when I try to explain to my stepdaughter that I used to deposit twenty-five cents into a large cabinet-sized device to play a single video game. It sounds especially silly now that she has a small box under her TV that plays any game she wants with way better sound and graphics than I had when I was a kid.
The first video arcade where I was a regular visitor was the Sega Center at the Fox Hills Mall in Culver City, California, around the mid-70s. That arcade appeared on national television in 1977 as the backdrop for Carrie Fisher's interview in "The Making of Star Wars."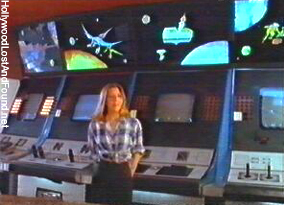 But the very first video game I ever played was actually the very first video arcade game ever released. Most people would think that it was PONG. Nope.
The very first video arcade game, released in 1971, was called Computer Space. The player controlled a rocket ship with several buttons and fired shots at enemy ships that were maneuvered by the computer (or another player, on certain machines). The game's cabinet design was striking - a futuristic curvy fiberglass body with a sparkling metallic color... usually red or blue. A few were yellow.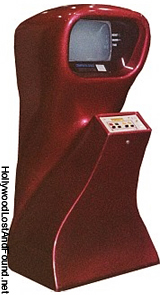 I came across one of the games in the early '70s while my father was helping out a friend of ours, Bjo Trimble, with a science fiction convention at the Ambassador Hotel in Los Angeles. I think my dad was thrilled that I was distracted enough while he helped set things up - although I did keep hounding him for quarters the entire time. I even tried to hit him up for cash while he was trying to introduce me to a famous horror film icon who was a guest at the convention... but that's an embarrassing story I'll tell later.
Computer Space games are rather hard to find now, but a few are displayed in museums. If you don't blink, you can see one in the movie "Jaws" (1975). There's also one featured a little more prominently in "Soylent Green" (1973).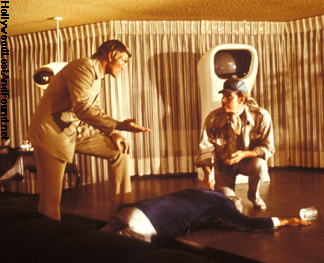 …If YOU know where there's a working Computer Space game – especially if it's in the LA area – please let me know!