Props and Artifacts
The Time Machine
from the 1960 George Pal film
"The Time Machine" (1960) is one of the classics of science fiction cinema. Based on the novel by H.G. Wells, it was directed by George Pal, starred Rod Taylor, Alan Young, and Yvette Mimieux, and featured Oscar winning special effects.
The distinctive Time Machine prop itself was co-designed by George Pal and MGM art director William Ferrari. Pal incorporated the look of a horse-drawn sleigh, inspired from the winter sleigh rides of his youth. It was built with an old fashioned barber's chair, which Pal liked because it reminded him of a pilot's seat. The chair was remodeled by the MGM artists to add feet and remove the pedal.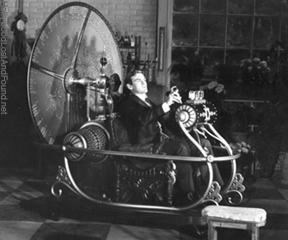 After filming, the Time Machine remained in storage at the studio for many years.
In the early 1970s, MGM held a huge public auction of their historic props and memorabilia. Items that were sold included a pair of ruby slippers from "The Wizard of Oz," costumes from "Gone With the Wind," two chariots from "Ben-Hur," and the Time Machine from the George Pal film.
One person who attended the auction was film historian, collector and performer Bob Burns. He had one goal at the auction, which was to acquire the Time Machine -- his personal Holy Grail of movie memorabilia. Bob and his wife Kathy had scraped together a thousand dollars, hoping it would be enough to take home the science fiction icon. But when the bidding went past $4000, Bob dejectedly left. The Time Machine ultimately sold for between eight and ten thousand dollars to the owner of a traveling show.
Bob called George Pal, who was an old friend of his, to tell him what had happened. With great confidence, Pal told Bob that he was certain Bob would eventually own the Time Machine.
Five years later, Tom Scherman, an effects artist and friend of Bob's, got a phone call from another friend who had just visited a thrift shop in Orange, California. "I think I found the machine that your friend Bob's been looking for," he said.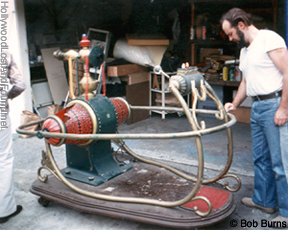 Bob and Tom arrived there two hours later. They casually made their way through the store, trying to hide their excitement. Sure enough, in the back of the shop was the Time Machine. It was in bad shape. The chair was gone, and the pods were broken -- but the large disk was fine. After some haggling, Bob left with his Holy Grail, paying exactly what his budget was the first time he tried to buy it: one thousand dollars.
Naturally, Bob called George Pal when he got home and told him he had the Time Machine. "Of course you do," Pal said. "Don't ever doubt me!"
George Pal had previously given Bob the blueprints to the Machine, which Bob used to restore it. He assembled a crew of friends who donated their time to rebuild the classic prop: Tom Scherman, Dennis Muren, Mike Minor, Lynn Barker, Dorothy Fontana, Marc Richards, Grace Richards, Lee Richards, Val Richards, and Wanda Kendal.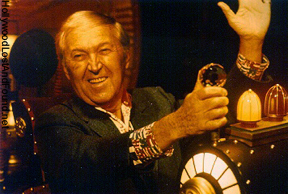 In about four weeks, the crew restored the Time Machine to pristine condition, and it was used in Bob's annual Halloween show for 1976. George Pal was one of the many guests of the show. While he was there, he admitted that he had never actually sat in the Time Machine, and was immediately invited to do so. When he took his seat in the Time Machine for the first time, special effects explosion master Joe Viskocil took his picture. It became Pal's official picture that he sent out to fans and the press from then on.
Many visitors to Bob's home museum of movie props and memorabilia have had a chance to sit in the machine, including special effects master Gene Warren Sr., director Frank Darabont, comic book artist Bernie Wrightson, and film historian Leonard Maltin -- to name just a few. But so many visitors climbing in and out of the fragile prop began to take its toll.
Another item in Bob's collection is the smoking jacket that Rod Taylor wore in "The Time Machine." A few years ago, a life-size wax figure of Taylor was created by Henry and Andrea Alvarez for Bob to display, wearing the original jacket, sitting in the machine. It was a polite way to discourage visitors from climbing into the machine, but also a great way to present another cherished item from the same film.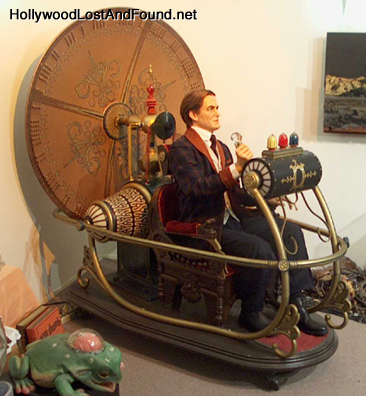 The original Time Machine has made appearances in other productions, including Carl Sagan's "Cosmos" (1981), "Gremlins" (1984), Mike Jittlov's short "Time Tripper" (1978, and used within his feature film "The Wizard of Speed and Time" in 1989) and the documentary on the making of "The Time Machine" called "The Journey Back" (1993).
Bob Burns also has in his collection a replica of the miniature Time Machine that is seen in the film. Unfortunately, the original, built by Wah Chang, was destroyed in a fire at George Pal's Bel-Air house in November 1961.
"The Time Machine" was remade in 2002, directed by Simon Wells (H.G. Wells' great-grandson). A new machine was built for the film with a new design, which is currently in storage at Warner Bros.
- Steve Lee
7 August 2007
Sources:

Burns, Bob, and John Michlig. It Came From Bob's Basement! San Francisco: Chronicle Books, 2000.

Burns, Bob, and Tom Weaver. Monster Kid Memories. New York: Dinoship, 2003.

Official Bob Burns Website, The. <http://bobburns.mycottage.com>
Home / Features / Film Sound / Movie Props / Locations
Trivia / Events / Tributes / Recommendations / Blog / About
Bibliography / Links / FAQs / Shop / Message Board / Disclaimers / Site Map
Please support our site by visiting our affiliates: