Locations

Gower Gulch
Hollywood, California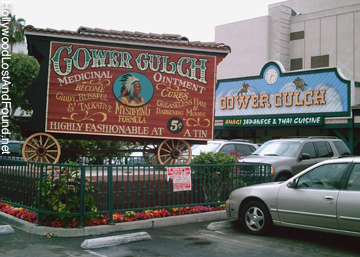 In 1869, a man named John T. Gower moved with his wife and five kids from Hawaii to California, where he purchased 160 acres of land to plant wheat and barley. Many years later, the area would become part of the city known as Hollywood, and a street there would bear his name.
Around the early 1920's, dozens of small "storefront" movie companies began to line Sunset Boulevard, around the intersection of Gower Street. Churning out one and two reelers, the struggling companies did their best to keep themselves financially afloat - but most couldn't, and the area became to been known as "Poverty Row." It was also given the more polite nickname "Gower Gulch," probably because of all the out of work actors who would hang out on the corner dressed as cowboys, hoping for work as extras in one of the many Westerns produced nearby.
To pay tribute to its history, the developers of the shopping center that was built in 1976 on the Southwest corner of Sunset and Gower had it designed to look like a Western street.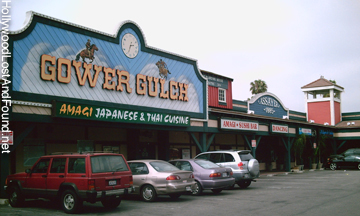 Gower Gulch
6098 Sunset Boulevard, at Gower Street
Hollywood, CA
- Steve Lee
10 June 2007
Sources:

Alleman, Richard. Hollywood: The Movie Lover's Guide. New York: Broadway Books, 2005.
Gordon, William A. The Ultimate Hollywood Tour Book. El Toro: North Ridge Books, 1998.
Palmer, Edwin O. History of Hollywood. Hollywood: Edwin O Palmer, 1938.
Wallace, David. Lost Hollywood. New York: St. Martin's Griffin, 2002.
Home / Features / Film Sound / Movie Props / Locations
Trivia / Events / Tributes / Recommendations / Blog / About
Bibliography / Links / FAQs / Shop / Message Board / Disclaimers / Site Map
Please support our site by visiting our affiliates: