Locations
Site of the
Garden of Allah Hotel
Hollywood, California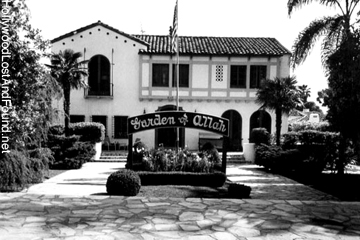 The Garden of Allah was once Hollywood's most famous – or perhaps infamous – hotel during the 1930s and 1940s.
Some of the celebrities who visited The Garden of Allah were in town for films they were working on, some lived there long-term. Some were between marriages or homes; some were there for the parties going on from sunset until dawn. But whatever the reason for the visit, the Garden of Allah was an escape from reality for those whose job it was to provide that escape for everyone else.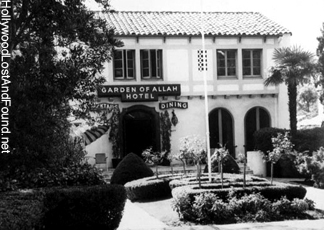 The furnishings were rather plain. The walls were thin enough for everyone to hear the goings on everywhere. And the food at the hotel's restaurant was, allegedly, awful (it was probably common practice for guests to grab a bite at Schwab's, which appeared across the street 14 years after the Garden of Allah was built). But apparently, everyone was having so much fun that no one cared.
It is said that Humphrey Bogart and Lauren Bacall began their romance there while making "To Have and Have Not" in 1944. Charles Laughton and wife Elsa Lanchaster stayed there when they moved to California in the early 30s before settling in Santa Monica. Frank Sinatra stayed there while he was performing at the Ambassador Hotel's legendary Cocoanut Grove club in 1941. Tallulah Bankhead reportedly swam – nude – in the pool. John Barrymore, Marlene Dietrich, Ginger Rogers, Greta Garbo, Errol Flynn, and the Marx Brothers all visited at one time or another.
It was also a sanctuary for many literary celebrities who gravitated to Hollywood in the '30s, including Robert Benchley, Dorothy Parker, F. Scott Fitzgerald, Ernest Hemingway, and George S. Kaufman.
After his marriage to Jane Wyman, future U.S. president Ronald Reagan stayed at the Garden of Allah – which just happened to have been built by the godmother of his future wife Nancy Davis – Alla Nazimov.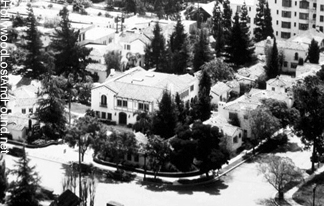 In 1918, Nazimov, an actress in silent films, bought an eight room Spanish-style mansion on the Southwest corner of Sunset and Crescent Heights Boulevards. The property was surrounded by three and a half acres of lush tropical plants and fruit trees.
Turning it into a hotel, Nazimov's early guests included Hollywood's royal couple at the time, Douglas Fairbanks and Mark Pickford, as well as stars Rudolph Valentino, Charlie Chaplin, and Tom Mix.
Nazimov then built 25 bungalows around the mansion, costing $1.5 million, and named the property the Garden of Alla Hotel in January of 1927. But two years later the depression hit hard. She lost the hotel, but managed to hold on to an apartment there for herself - where she lived until her death in 1945. She was reportedly never happy that the new owner insisted on adding an "h" to the hotel's name.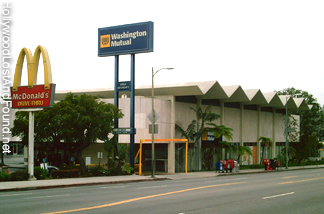 Unfortunately, the hotel never made any real profit over the years under its several owners. By the late 1950s, it was run down and populated by transients and prostitutes. It closed in August of 1959 – but not before one last huge party. Over a thousand people showed up, many dressed as the hotel's previous guests - including Valentino, Chaplin, Clara Bow… and even Nazimova. Her 1923 silent film "Salome" was screened at the party.
At present, a strip mall, a McDonald's, and a Washington Mutual Bank are on the former site of the Garden of Allah. For years after it was demolished, a model of the hotel was on display outside the bank building, encased in a glass bubble. It was moved inside the bank for a time - but now the model is gone as well.


Garden of Allah Site
8150 Sunset Boulevard
Hollywood, CA
- Steve Lee
10 June 2007
Sources:
Alleman, Richard. Hollywood: The Movie Lover's Guide. New York: Broadway Books, 2005.
Gordon, William A. The Ultimate Hollywood Tour Book. El Toro: North Ridge Books, 1998.
Wallace, David. Lost Hollywood. New York: St. Martin's Griffin, 2002.
Home / Features / Film Sound / Movie Props / Locations
Trivia / Events / Tributes / Recommendations / Blog / About
Bibliography / Links / FAQs / Shop / Message Board / Disclaimers / Site Map
Please support our site by visiting our affiliates: