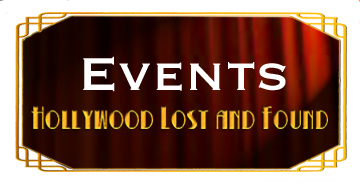 Click here for Current Events in Hollywood!
Editors Pick:
Academy of Motion Picture Arts and Sciences
"Great To Be Nominated" Series
Now, through August 20, 2007
A series of screenings that feature the movie from each Academy Awards year that received the most nominations without winning the Best Picture award. Films include Born on the Fourth of July (1989), The Godfather, Part III (1990), Bugsy (1991), and Howards End (1992). Individual tickets are $5 for the general public - visit their website for more information.
Past Event Reports

Godzilla's Star on Hollywood Boulevard

Bob Burns Halloween Extravaganza 2002

Pennies From Heaven at the Academy

San Diego Comic Con -- A Newbie's View

An Evening with Kevin Smith

Home / Features / Film Sound / Movie Props / Locations
Trivia / Events / Tributes / Recommendations / Blog / About
Bibliography / Links / FAQs / Shop / Message Board / Disclaimers / Site Map
Please support our site by visiting our affiliates: